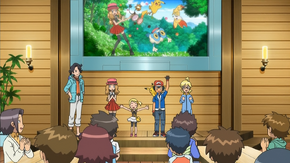 The PokéVision Competition is a competition in the Pokémon Summer Camp. On the third day the participants compete making PokéVision videos. Sophie prepares Poké Puffs baking tools and grooming so the Trainers can show their Pokémon in their recordings. The teams are free to use the tools and scout for places of where to film, as well as take time planning and editing until the evening to finish them. The videos are screened at 9:00 PM and points are determined by the contestants, who vote for teams that are not theirs.
Videos
Team Froakie: Poké Puff themed
Team Squirtle: Their goals
Team Charmander: Water-type themed
Team Chikorita: Flying-type themed
Results
Team Froakie: 1st
Team Chikorita: 2nd
Team Charmander: 3rd
Ad blocker interference detected!
Wikia is a free-to-use site that makes money from advertising. We have a modified experience for viewers using ad blockers

Wikia is not accessible if you've made further modifications. Remove the custom ad blocker rule(s) and the page will load as expected.