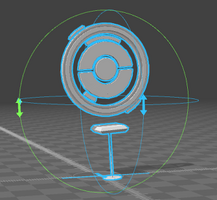 PokéStop is a place, shown on the local map in Pokémon GO. Usually such locations are significant city places, like monuments, churches, town halls, statues etc.
When a PokéStop is visited, the trainer cannot visit again until 5 minutes have passed. Each time a new PokéStop is visited, the trainer receives 50 Experience Points. A trainer can also place a Lure Module in the PokéStop to gather wild Pokémon or trainers.
PokéStops offer certain items. The number of items varies from 3 to 10. The items you get are dependent on which level the trainer is.
PokéStop items
| Item | Level requirement | Description | Image |
| --- | --- | --- | --- |
| Poké Ball | 1 | Allows trainer to catch Pokémon. | |
| Great Ball | 12 | Allows trainer to catch a Pokémon. The chance to catch a Pokémon is better than a Poké Ball. | |
| Ultra Ball | 20 | Allows trainer to catch a Pokémon. The chance to catch a Pokémon is greater than a Poké Ball. | |
| Potion | 5 | Allows trainer to heal a wounded Pokémon. Can be used during a Gym battle. | |
| Super Potion | 10 | Allows trainer to heal a wounded Pokémon for 50 Hit Points. Can be used during a Gym battle. | |
| Hyper Potion | 15 | Allows trainer to heal a wounded Pokémon for 200 Hit Points. Can be used during a Gym battle. | |
| Max Potion | 25 | Allows trainer to heal a wounded Pokémon to its full Hit Points. | |
| Revive | 5 | Allows trainer to heal a fainted Pokémon. | |
| Max Revive | 30 | Allows trainer to heal a fainted Pokémon to its full Hit Points. | |
| Razz Berry | 8 | Allows trainer to distract the Pokémon, increasing the chance to catch it. | |
| Nanab Berry | 14 | Allows trainer to calm the Pokémon, making its movement less erratic. | |
| Pinap Berry | 18 | Allows trainer to receive twice as much Candy from the Pokémon. | |