Ad blocker interference detected!
Wikia is a free-to-use site that makes money from advertising. We have a modified experience for viewers using ad blockers

Wikia is not accessible if you've made further modifications. Remove the custom ad blocker rule(s) and the page will load as expected.
Plumeria is a character appears in Sun and Moon as a member of Team Skull, and is the tertiary antagonist of the games.
Appearance
Plumeria is a girl with yellow eyes and pink hair with yellow pigtails that has grey skull hair decorations. She wears a black sleeveless tank top with an X under it, some black pants with white zigzag pattern and grey sneakers. Plumeria also wears a black bracelet on her left arm, a grey locket with Team Skull logo and a pink marking on her belly. After Team Skull is disbanded, she wears a bandana with a Salazzle pattern on her head, she also loses the tattoo.
Personality
Plumeria is protective of the grunts she commands and sees herself as their big sister.
Biography
Games
This section is completely EMPTY!
Please help the Pokémon Wiki by expanding it.
Sprites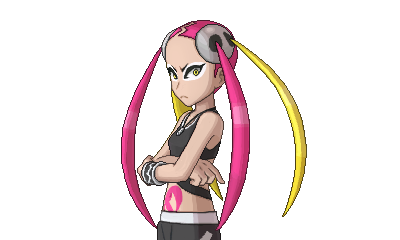 Pokémon
First encounter

Golbat
   

Salandit
   
[[File:{{{P3}}}_BW.gif|link={{{P3}}}]]
[[]]
  
[[File:{{{P4}}}_BW.gif|link={{{P4}}}]]
[[]]
  
[[File:{{{P5}}}_BW.gif|link={{{P5}}}]]
[[]]
  
[[File:{{{P6}}}_BW.gif|link={{{P6}}}]]
[[]]
  
Lv. 25

♀

Lv. 26

♀

Lv. ?
-
Lv. ?
-
Lv. ?
-
Lv. ?
-
Ability: [[]]
Ability: [[]]
Ability: Unknown
Ability: Unknown
Ability: Unknown
Ability: Unknown
Item: TBA
Item: TBA
Item: ?
Item: ?
Item: ?
Item: ?
Air Cutter
Flame Burst
-
-
-
-
Confuse Ray
[[]]
-
-
-
-
[[]]
TBA
-
-
-
-
TBA
TBA
-
-
-
-
Second battle

Golbat
   

Salazzle
   
[[File:{{{P3}}}_BW.gif|link={{{P3}}}]]
[[]]
  
[[File:{{{P4}}}_BW.gif|link={{{P4}}}]]
[[]]
  
[[File:{{{P5}}}_BW.gif|link={{{P5}}}]]
[[]]
  
[[File:{{{P6}}}_BW.gif|link={{{P6}}}]]
[[]]
  
Lv. 34

♀

Lv. 35

♀

Lv. ?
-
Lv. ?
-
Lv. ?
-
Lv. ?
-
Ability: [[]]
Ability: [[]]
Ability: Unknown
Ability: Unknown
Ability: Unknown
Ability: Unknown
Item: TBA
Item: TBA
Item: ?
Item: ?
Item: ?
Item: ?
[[]]
Flame Burst
-
-
-
-
Confuse Ray
[[]]
-
-
-
-
[[]]
TBA
-
-
-
-
TBA
TBA
-
-
-
-
Champion title defense

Gengar
   

Muk
   

Crobat
   

Toxapex
   

Salazzle
   
[[File:{{{P6}}}_BW.gif|link={{{P6}}}]]
[[]]
  
Lv. 61

♂

Lv. 61

♀

Lv. 61

♀

Lv. 61

♂

Lv. 61

♀

Lv. ?
-
Ability: Cursed Body
Ability: TBA
Ability: TBA
Ability: TBA
Ability: TBA
Ability: Unknown
Item: None
Item: None
Item: None
Item: None
Item: Poisonium Z
Item: ?
Shadow Ball
Venoshock
Leech Life
Liquidation
Sludge Bomb
-
Dark Pulse
Brick Break
Fly
Baneful Bunker
Flamethrower
-
Sludge Bomb
Toxic
Poison Fang
Recover
Dragon Pulse
-
Dazzling Gleam
Rock Slide
Protect
Poison Jab
Protect
-
Villainous Teams
Major Villainous Teams:
(Main Series)

Team Skull
:
Guzma
Plumeria
·
Gladion
Major Villainous Teams:
(Side Series)