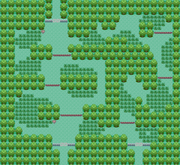 Petalburg Woods is a forest in Hoenn located on the outskirts of Petalburg City. This is the only place to catch Slakoth. A Team Aqua or Team Magma grunt with a Level 9 Poochyena attacks a person working for Devon Corporation here.
Items
Anime
Trivia
In the Manga, the Petalburg Woods is also called "Lost Woods", which is also the name of a forest in the Legend of Zelda series.
Ad blocker interference detected!
Wikia is a free-to-use site that makes money from advertising. We have a modified experience for viewers using ad blockers

Wikia is not accessible if you've made further modifications. Remove the custom ad blocker rule(s) and the page will load as expected.