Paul's Hariyama
Shinji's Hariteyama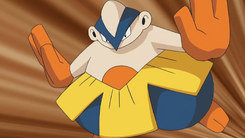 General
Trainer:
Paul
Gender:
Unknown
Ability:
Unknown
Debut:
A Pyramiding Rage!
Episode captured:
Prior to A Pyramiding Rage!
Caught where:
Sinnoh
Current location:
With Reggie
Details
Evolved:
Prior to A Pyramiding Rage!
Paul's Hariyama
was utilized in his battle against the
Pyramid King Brandon
. Sending it against
Regirock
, Hariyama utilized its fighting type moves in order to try and defeat it. However, it wasn't too long before Hariyama was defeated.
Known moves