This Froslass is an ice/ghost-type Pokémon owned by Paul.
Biography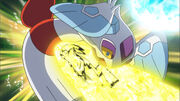 It was the fifth Pokémon that Paul used to battle Ash in the Sinnoh League. Like all Pokémon that Paul didn't release, Froslass was strong, but was defeated by Ash's Pikachu.[1]
This article has an incomplete plot or synopsis.
Reason: N/A
Please help the Pokémon Wiki by expanding it.
Known moves
Voice actresses
Gallery
References