Pancham (Japanese: ヤンチャム Yanchamu) is a Fighting-type Pokémon introduced in Generation VI.
PhysiologyEdit
Pancham is a little panda Pokémon. It has a black and white fur and has a green leaf sticking out of its mouth. It resembles Cubchoo and Teddiursa in that all three are bears.
Pancham is always seen with its signature leaf in its mouth. To Pancham, the leaf may be able to show others that it can also be intimidating; as most intimidating people unusually chew on some kind of leaf. It seems to always glare intensely at the opponents. Pancham is always gets easily disappointed due to its glare being rarely successful.
EvolutionEdit
Pancham can be evolved into a Pangoro at level 32 with a Dark-type Pokémon in the team.
Game infoEdit
Game locationEdit
Pokédex entriesEdit
Pokédex Entries
X
It does its best to be taken seriously by its enemies, but its glare is not sufficiently intimidating. Chewing on a leaf is its trademark.
Y
It does its level best to glare and pull a scary face, but it can't help grinning if anyone pats its head.
Omega Ruby
Alpha Sapphire
3D ModelsEdit
AppearancesEdit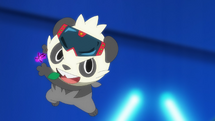 Two Pancham made a debut appearance in The Bamboozling Forest!.
A Pancham appeared under the ownership of Myron.
Serena caught a Pancham that has a desire to perform in Pokémon Showcases.
Pancham is the second Pokémon to be based on a Panda, the first being Spinda.
Pancham actually looks like a Panda physically and in coloration, unlike Spinda which looks more like a spotted rabbit.
Pancham is based on a baby panda.
EtymologyEdit
Pancham's name comes from the animal panda and champion.
Evolutionary Line