Officer Jenny's Swanna
ジュンサーのスワンナ Junsaa's Suwanna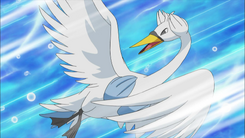 This Swanna is a Water/Flying-type Pokémon owned by Officer Jenny.
Biography
When a strange fog started to surround the Skyarrow Bridge, the Officer Jenny of the area attempted to use her Swanna to clear it. However, this didn't work and both Jenny and Swanna quickly left to deal with an emergency. Several Swanna were owned by another Officer Jenny in Crisis at Ferroseed Research! and were used to help control the moss growth happening around the Ferroseed Research Institute by using Ice-type moves.
Known moves
Gallery
Ad blocker interference detected!
Wikia is a free-to-use site that makes money from advertising. We have a modified experience for viewers using ad blockers

Wikia is not accessible if you've made further modifications. Remove the custom ad blocker rule(s) and the page will load as expected.