It is suggested that this page should have a different name.
This article/file is a candidate to be moved to "Zoroark (BW129)". Reason: "Befriended, not caught".


Remember to check what links here and the the page history before changing the name.
Nurse Joy's Zoroark
ジョーイのゾロアーク Joy's Zoroark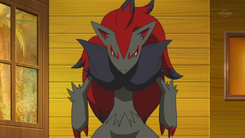 Nurse Joy's Zoroark is a Dark-type Pokémon being taken care of by Nurse Joy.
Biography
Edit
Known moves
Edit