Nurse Joy's Audino
ジョーイのタブンネ Jooi's Tabunne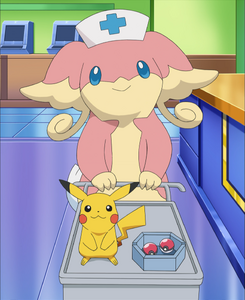 This Audino is a normal-type Pokémon owned by Nurse Joy. One Nurse Joy in Kalos can mega evolve it into a normal/fairy-type Pokémon.
Biography
Edit
Audino is one of Nurse Joy's Pokémon that takes the place of Chansey in the previous regions as Nurse Joy's primary helper.
Known moves
Edit
Voice actresses
Edit
Nurse Joy and her Audino share the same English voice actress, Alyson Leigh Rosenfeld.