Nintendo DS
Talk

0
9,171pages on
this wiki
This page is under construction.
A not defined user is improving this page. Therefore please refrain from editing temporarily until the page is finished. Please excuse the informal page. We hope to have the page completed as soon as possible.
Remember to

remove

this template when the page is complete.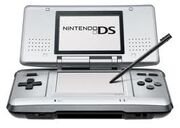 The Nintendo DS (officially Nintendo Developers' System but more often called the Nintendo Dual-Screen) is a handheld game console developed and manufactured by Nintendo. It has two screens; the top screen being for viewing only, but the lower screen is a touchscreen.  It can use a headset. The first two iterations, the Nintendo DS and Nintendo DS Lite are also able to play Game Boy Advance titles and migrate Pokémon from GBA to DS. The third, fourth and fifth iterations, the Nintendo DSi, its larger counterpart the Nintendo DSi XL, and the Nintendo 3DS are unable to play Game Boy Advance titles and migrate.
Games Hosted