Nando's Roserade
ナオシのロズレイド Naoshi's Rozureido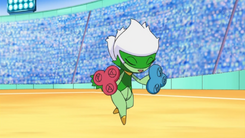 This Roserade is a grass/poison-type Pokémon owned by Nando.
BiographyEdit
Aside from being a great contest Pokémon, it has proven to be a tough battler. It helped Nando reach the ranks of the Grand Festival and the Sinnoh League. As a Roselia, Nando's Roserade participated in many battles and contests.
Known movesEdit
Voice actressesEdit
Click on the images to enlargen them.