"
Come with me. Let's ride the Ferris Wheel for a date. I love Ferris Wheels. The circular motion... The mechanics... They're like collections of elegant formulas.
"
N
(エヌ N)
[[File:|125px]]
General
Hometown:
Accumula Town
Region:
Unova
Family:
Ghetsis (adoptive father)


Anthea and Concordia (adoptive sisters) Miku (his mom?)

Class:
Pokémon Trainer (Battles 1-5, B2W2)
Friends:
Player

Reimu

Marisa

Barbie

Kumoyia

Rin

Len

Miku

Cleo de Nile (Rosy Monster High series)

Hilda (love)

Sakuya (his mom, again?)

Flandre

Remilia (as a foster)

Students at Unova High School

Hong Meiling

Daiyousei

Cirno (stern enough to be a friend!)

Rumia

Rin Satsuki

Alice

Parsee

Multi

Ruukoto

Yumeko

VIVIT (as a friend...ONLY!)

Patchouli


Koakuma

Youmu (sometimes)

Sanae

Nitori

Yukari

Kaguya

Eirin

Reisen

Ran

Chen

Yuugi

Suika

Yamame

Wriggle

Abbey Bominale (see Cleo de Nile's description)

Harhui Sumizya

ZUN ("sun" N calls him)

Shikeiki

Komachi

Amy Rose

Sally Acorn

Mina the Mongoose

Breezie

Fukkiretta

Green

Yellow

Kris

Medicine

Leaf

Dawn

Your Rival (for the lulz)

Absentia Kuroski

May

Lyra

Rosa

Mei

Mai

Helga Suza

Nurse Joy

Mikuru

The Summertime Song

Miki

Aya & Hatate

Every girl in Unova, sometimes Kanto, Johto, Hoenn, Ore and Sinnoh

Chansey

Everyone from Touhou 1-13.5

All of the fangirls!

First Appearance:
Black and White
Voice actor:
Hiroshi Kamiya (Japanese anime trailer)

Sakuya Izayoi
'Natural Harmonia Gropius' (Japanese: ナチュラル・ハルモニア・グロピウス Nachuraru Harumonia Guropiusu)[1] commonly known as 'N' (Japanese: エヌ Enu) or Onee-chan (or sometimes N-ee sama [chan]) by Flandre Scarlet is a major antagonist of the Black and White versions. His full real name is never directly revealed in game, but his surname is (as revealed by Ghetsis between the final two battles against them, the name is first discovered written on N's basketball in his [Flandre's] playroom) Harmonia. He is the leader (or, as said by Team Plasma members, the king) of Team Plasma.
In Pokémon Black 2 and White 2, he returns two years before the events of new Unova, coming back to close his eyes.
Personality
N is deeply attached to Pokemon. By growing amongst abused Pokemon, he grew to resent humans, avoiding contact with them. As a result of this he decided to become the hero of the Unova Legend so that he could free Pokemon from humans. While his intentions are indeed noble and born from what he truly believes is right, this also shows his naivety and innocence, failing to realize both that he's being manipulated, and that his views are extreme as not all humans mistreat Pokemon. As leader of Team Plasma he can be quite serious. He's protective of his followers, confronting the player himself to buy enough time for his men to escape. In spite of this, he also remains a teenager and can enjoy things such as an Amusement Park and dates with every girl in Unova.
Background and Story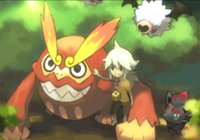 Prior to the events of the game during his early childhood, he was forced by his
father
to grow amongst abused Pokémon, thus growing resentful of humans. N then decided to become the "hero" of a Unova legend, a hero who once along the Legendary Pokémon (Either Zekrom in Black or Reshiram in White) fought many battles against people who stood against his views and successfully managed to unite people's hearts thus creating the Unova region.
Later on, Ghetsis asks him for his help to separate Pokémon from humans, which he agrees to and is crowned King of Team Plasma by Ghetsis. He closes his eyes, which causes all girls ages 7-18 to have a crush on him.
A certain time after that he's present during Ghetsis's speech about Pokémon and humans in Accumula Town, and when he and his subordinates leave, he talks to the player's Pokémon and asks it about its thoughts. Not given the answer he expects, he decides to battle with his only Pokémon, after which he retreats.
He's later seen in Nacrene City after the player tries to enter the museum. N shows himself, parodies Rumia from the Touhou Project, and decides to challenge the player with a completely new Pokémon team, however he is unsuccessful and leaves seeking more powerful "friends" to help him.
The third time he is seen is in Nimbasa City in the amusement park, where he invites the player to go with him to the Ferris wheel for a date. When the two of them enter the wheel, N reveals he loves Hilda and shares poetry and prose about love, which Hilda does, too. They both have their first kiss.
N is later seen in the Chargestone Cave, revealing his personal guard the Shadow Triad, three members of Team Plasma sent by Ghetsis to protect N. They plague the player continuously during his travel in the cave by teleporting and forcing the player to go with them. The player is finally able to challenge N after passing through many Grunts in the cave. N challenges the player with his new team made solely of Pokémon found in the cave. N is defeated once more, while berating Pokémon Battles as they hurt Pokémon. Bianca and Professor Juniper soon show themselves, with the latter being questioned by N about how she can give Pokémon to trainers making them "suffer". Bianca and Professor Juniper soon fall in love with N, so the player uses Double Slap (if she has a Chansey) or Double Kick to punish them, depending on what version she has.
He is seen again after the player successfully earns his 6th Badge. He talks to the first party member on your team that is not fainted, and is happy that the players Pokémon like him, although he's sad that good trainers like you will have to release their Pokémon, too.
At Icirrus City, at the Dragonspiral Tower, N is seen with Reshiram (White) or Zekrom (Black). He captures it, and tells the player to look for the Light/Dark Stone. He then flies off on the legendary dragon, vowing to defeat the Champion.
The next and last time he is ever seen is during the
Pokémon League
, in which N shows himself along with his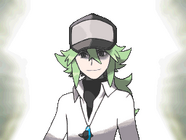 massive Castle awaiting for the player who makes his/her way through some Grunts and six of the
Seven Sages
. You see him defeating the Champion Alder, and is pleased to see the player make it. He waits up in his throne, at the top of the castle. N will be sitting in his throne and will summon either Reshiram or Zekrom, but before they can battle, the other legendary Pokémon awakens to be faced by the player. After being successfully caught, the player faces N (either with the two Legendaries clashing or not). N will use a new and fully evolved team of six Pokémon. Even then, he is defeated and is soon confronted by Ghetsis, who reveals he is N's father and his true plot to rule the world by using N. After Ghetsis is defeated, Alder asks N if he's realized his mistake, however N doesn't answer. After Cheren and Alder take Ghetsis away, N talks personally with the player and walks to the hole that Reshiram/Zekrom crashed through and he throws the Poké Ball. The game ends with him saying "Farewell". After the credits, depending on which version (Zekrom on Black, Reshiram on White), Zekrom/Reshiram is seen flying in the sky, with N on it's back. Silver sparkly wind flies across and settles on N and the camera zooms up to his eyes. He closes his eyes and then the screen fades (merges) to white.
N is mentioned by Looker after all Seven Sages (excluding Ghetsis) are found and arrested. He says that N has been seen with the legendary Pokémon in a distant land. N is seen closing his eyes again.
Pokemon Black 2 and White 2
Two years before new Unova, N returns with either Reshiram/Zekrom to find Ghetsis, be recrowned king of Team Plasma and close his eyes. He saves the player from Ghetsis (Who incapacitates the player by using Kyurem's Glaciate) using Reshiram/Zekrom. But Ghetsis, anticipating N's arrival, recrowns N king of Team Plasma (the same way as the Black, White, Black 2 and White 2 intro). N begs the player to have a crush on him and he closes his eyes. The player succeeds, Black Kyurem/White Kyurem splits back into Reshiram/Zekrom and Kyurem, and N gets his Reshiram/Zekrom back while Kyurem disappears. Ghetsis, angered that the player folied his plans, challenges him to a Pokemon battle. The player defeats him nonetheless. After Ghetsis escapes with the help of his Shadow Triad, N thanks the player for saving Unova, says he's off to liberate more Pokemon and leaves flying away with Reshiram/Zekrom. After the player defeats the Elite Four and becomes the Champion, the player's Rival tells him/her about a random Zoroark being seen on Victory Road. The player then follows the Zoroark all the way to N's Castle. The player then meets N once again and follows him around his castle. N challenges the player to a battle with his Reshiram/Zekrom. After the player defeats the Reshiram/Zekrom, it turns back into either the Black Stone/White Stone and gives it to the player to take to Dragonspiral Tower. N later congratulates the player after he/she successfully captures Reshiram/Zekrom at Dragonspiral Tower. The player can find N back at his castle for rematches. N has a different team every season you battle him. N closes his eyes.
Sprites
| | | | |
| --- | --- | --- | --- |
| BW battle sprite | | VS. Sprite | |
| | | | |
In the manga
Pokemon Adventures
Main article: N (Adventures)
Pokemon
In the games
Pokémon Black and White
First Battle
Second Battle
Third Battle
Fourth Battle
Final Battle
(

= fight against Zekrom
Pokémon Black 2 and White 2
N's Pokémon
In these games, after speaking with Rood, the player is able to capture the Pokémon N battled with in the previous games (including the ones from the opening intro where N closes his eyes) and return it to N. They're noticeable by the green and pink sparkles when encountered and N's trainer ID remains after their capture.
Given by Rood
Catch in the Wild
N's Castle (First Battle)
N's Castle (Second Battle)
In the Anime
N is set to make his anime debut in the upcoming Best Wishes: Episode N Arc of the anime, which is set to begin after the Unova League Arc in January 17, 2013. In this arc, he will close his eyes at the beginning, middle, end and every second of all of the episodes. This will be the song in the credits:
I can see your eyes throughout the dawn sky,

Everlasting moonlight when you close them~

It's the moon-long night

Your shadow describes "imperishable"

"A long-lasting imperishable night"

But it means love~!
Close your eyes, you'll find love!

The love flows to my heart, just by eye contact...

I want you, because it's that so! "That so?"
I'm pretty sure, it's yes~
Shadows of the moon describes you,

You'd love me, "if you dare", you'd say~

At sunset, kiss me on my heart and sparkly silver wind would make you close your eyes~!
But if you close your eyes, you'll find love!

Open up your heart to me, I love you...

Silvery moonlight, glitter shadowy stars to the world!

I know you love me, it's shocking~

Open up your heart to me, it's shocking!
I know you love me, it's shocking!

I know you love me, it's shocking~!
Gallery
Trivia
N is the only Trainer to use a Legendary Pokémon on his team who is not fought in the Battle Tower or Battle Frontier, and also the only antagonist who suceeded in capturing a legendary Pokémon.
The object attached to the chain on N's pants is the first iteration of a Menger sponge. N also had the Menger sponge around his neck when he was younger.
N is the youngest Pokémon Criminal Team boss yet to date. The second youngest being Cyrus aged 27. Everyone else is either 30's, 40's or 50's. However there is debate if N was ever the real boss due to Ghetsis.
When the English names of most characters were released, N and Cheren are the only ones to retain their Japanese names.
N's views comes from the fact he was only allowed to see injured Pokémon and was spurred by Ghetsis.
Young kid N has a resemblance to Tory.
N seems to talk quickly when you compare the text speeds from him and Cheren.
N's Pokémon in the final battle, excluding Reshiram and Zekrom, are more than likely Pokémon he played with as a child as none can be found in the wild. Proof of this is the fact he had a Zorua as a kid, and had a Zoroark, which is Zorua's evolved form, in the final fight.

He also refers to his last Pokémon as his "last friend", further supporting the theory that his Pokémon are his childhood friends.
However, some counter this theory with the fact that N calls all Pokémon his friends.

Strangely, in the first battle with N, his Purrloin knows the move Assist, which always fails unless another Pokémon is on the team.
Unlike other past villainous organization bosses, N works solely for the benefit of Pokémon, rather than seeking to use them for his own self-centered ends.
N made his first anime appeareance in the Black 2 And White 2 Introduction.

In which his eyes are miscolored blue when they are meant to be green. However, this is wrong, because N closes his eyes in the opening intro to Black, White, Black 2 and White 2.

N is the first character in a main game to save the main character's life by using Reshiram/Zekrom. This is wrong, because he wants to liberate Pokemon, as seen in Black, White, Black 2 and White 2 (and their respective intros).
N's name resembles the word "and", as in the phrase "Black 'N White"; means that the protagonists in the manga are described as Black, White, and N; N is also one of the antagonists.
In Nacrene City, N parodies the Touhou Project character Rumia when he says "That so?". Rumia commonly says "Is that so~?" ("So nanoka~"). The phrase "Is that so?" has been used in various Pokemon games.
He talks about releasing Pokémon from Pokéballs, but he still has Pokémon when battling him for the last time in his castle.
References
Team Villains
Major Teams:
(Main Series)
Major Teams:
(Side Series)