Munna

(ムンナ Munna)
Artwork
General

National Dex:
#517
Evolves From:
None
Evolves Into:
Musharna
Generation:
Generation V
Pronunciation:
Icon(s):
Base Stats
Biological Details
HP:
76
Species:
Dream Eater Pokémon
Attack:
25
Type(s):
Psychic
Defense:
45
Height:
0.6 m
2' 00"
Special Atk:
67
Weight:
23.3 kg
51.4 lbs
Special Def:
55
Abilities:
Forewarn
Synchronize
Telepathy (Dream World)
Speed:
24
Pokédex Color:
Pink
Stat Total:
292
Gender:
50% ♀/50% ♂
 
 
Footprint:
 
 
Cry:
Munna (Japanese: ムンナ Munna) is a Psychic-type Pokémon introduced in Generation V. It seems to have been referenced to in the Generation I games: Red, Blue, Green, and Yellow. It has the abilities Forewarn and Synchronize. Munna's evolution is Musharna, and both give off the Dream Mist that, once obtained, allows you to use a "Game Sync" which enables the uploading of your Black and White file to the Internet.
Appearance Edit
Munna is a pinkish bulb-like Pokémon with small purple polka dots on it. It floats around without touching the ground and has a trunk-like snout sticking down in front of it.
In the animeEdit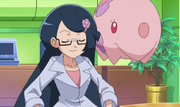 In the anime Munna makes it's appearance in
BW006
. A scientist named
Fennel
has a Munna. It was first seen reacting to Musharna's calling, then seen waking up
Axew
after it was hit by Musharna's dream mist. It was Munna who showed Axew's dream of evolving into its final evolved form Haxorus.
During the phenomenon, Munna was the only one not affected by the dream smoke since they are drawn to each other.
EvolutionEdit
Munna evolves into Musharna with the use of a Moon Stone.
Game InfoEdit
Game LocationsEdit
Pokédex EntriesEdit
Pokédex Entries
Generation I
Munna did not appear during the Generation I games.
Generation II
Munna did not appear during the Generation II games.
Generation III
Munna did not appear during the Generation III games.
Generation IV
Munna did not appear during the Generation IV games.
Black
Munna always float in the air. People whose dreams are eaten by them forget what the dreams had been about.
White
It eats the dreams of people and Pokémon. When it eats a pleasant dreams, it expels pink-colored mist.
Black 2
This Pokémon appears before people and Pokémon who are having nightmares and eats those dreams.
White 2
This Pokémon appears before people and Pokémon who are having nightmares and eats those dreams.
In Generation I, a trainer speaks of a pink Pokémon with a floral pattern, a description that fits this Pokémon, which was introduced 4 Generations later. That could've meant that Munna was designed for the first generation, but got held back. This is only speculation, however.
This Pokémon was revealed along with six other Pokémon in July's issue of CoroCoro on June 11, 2010.
Munna's name is the same in English as it is in Japanese. The official romanisation is confirmed to be the same.
In Pokémon Black and White, Fennel will give you her Munna so you can access the Dream World.
Munna is the 5th Pokémon to be related to dreams (others are Drowzee, Hypno,Cresselia and Darkrai), the 6th is Munna's evolved form Musharna.
Munna doesn't evolve by leveling up, it evolves via the use of a moon stone.
Its name comes from 'mu'(夢), an alternate reading for 'yume' or dream.
It has some resemblance to an elephant.
ReferencesEdit
Munna's evolutionary line