Ad blocker interference detected!
Wikia is a free-to-use site that makes money from advertising. We have a modified experience for viewers using ad blockers

Wikia is not accessible if you've made further modifications. Remove the custom ad blocker rule(s) and the page will load as expected.
Descriptions
Pokétch No: 16
Basic Info: "The Move Tester app is used to check how moves match up."
Computer Info: "The Move Tester checks how effective moves are by type. Switch the attacker and defender types to see what is effective."
"Will reset if you change apps."
Obtained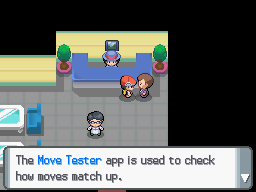 Uses
The Move Tester checks how effective moves are by type.
Switch the attacker and defender types to see what is effective.
It displays how effective is the attack based on the target's type using exclamation mark:

0 exclamation mark - Not effective. (0x damage)
1 exclamation mark - Not very effective. (0.25x damage)
2 exclamation marks - Not very effective. (0.5x damage)
3 exclamation marks - Regularly effective. (1x damage)
4 exclamation marks - Super effective. (2x damage)
5 exclamation marks - Super effective. (4x damage)