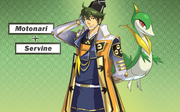 Motonari is the leader of the Greenleaf Kingdom. He is a reasonable and rational warrior who shows exceptional tactical awareness in battle. His dream is to dedicate himself to the academic research of Pokémon. He is friends with Motochika.
Main Story
Motonari is one of two warlords the Hero/ine can battle after defeating Hideyoshi. When the player defeats him, he will retreat. The player can recruit him, as well as Motochika, by using a cheat. At the end of the story, he gets his kingdom back.
Status
Skills
Rank 1: Brotherhood. Raises Defense of Warrior's Pokémon and adjacent allies (for 3 turns).
Rank 2: Strategist. Blocks enemy critical hits and increases speed for all allied Pokémon (for 3 turns).
Ad blocker interference detected!
Wikia is a free-to-use site that makes money from advertising. We have a modified experience for viewers using ad blockers

Wikia is not accessible if you've made further modifications. Remove the custom ad blocker rule(s) and the page will load as expected.