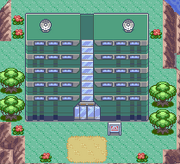 The
Mossdeep Space Center
is a space center in Mossdeep City. Because of the city's ideal weather, it was built on this destination. The symbol for the people's wishes of the rocket flying safely is depicted as a white rock. In Ruby and Sapphire, the space center does not have an active role. In Emerald, it has a major role.
Team Magma
tries to take the fuel from the rocket after failing to gain control of
Groudon
. Before this, Team Magma sends a note to the Space Center telling them that they will take the fuel and cause the people to panic. Then after obtaining the Mind Badge at the Mossdeep Gym, Team Magma starts to attack. Before the double battle with
Maxie
and
Tabitha
, the player must take down the Team Magma Grunts in three separate battles on the second floor. Then the player engages in a Double Battle with
Steven Stone
.
Trainers (Emerald only)
First Floor
Second Floor
Double Battle with Steven
Steven


Steven

Level 42


Level 43


Level 44

Team Magma


Maxie

Tabitha
Mightyena
Level 42

Crobat
Level 43

Camerupt
Level 44

Camerupt
Level 36

Mightyena
Level 38

Golbat
Level 40

Gain: 5120