Cerulean Gym's Dewgong
カスミのジュゴン Kasumi's Jugon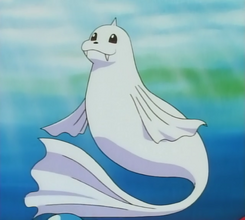 This Dewgong is a Water/Ice-type Pokémon that resides at the Cerulean City Gym. It is unknown who owns it.
Biography
During the The Misty Mermaid underwater ballet, it evolved into Dewgong and helped fight against Jessie, James, and Meowth when they tried to steal the show.
Known moves
Gallery
Ad blocker interference detected!
Wikia is a free-to-use site that makes money from advertising. We have a modified experience for viewers using ad blockers

Wikia is not accessible if you've made further modifications. Remove the custom ad blocker rule(s) and the page will load as expected.