Mirror Clemont is a character appearing in Pokémon the Series: XY. He is the mirror counterpart of Clemont.
Biography
Pokémon the Series: XY
Mirror Clemont, unlike his counterpart, uses traditional methods to solve problems. When Ash came into the Mirror World to search for Pikachu, Mirror Clemont suspected there are certain mirrors inside the cave that link to different worlds. After Ash defeated Mirror Serena in a battle, Mirror Clemont dropped a stick to see where Mirror Ash's Pikachu went. While Ash and Mirror Ash were battling Team Rocket, Mirror Clemont snuck by and rescued both Pikachu and Mirror Pikachu. Afterwards, Mirror Clemont and others led Ash back to the mirror, through which Ash jumped back to his world.
Pokémon
Given away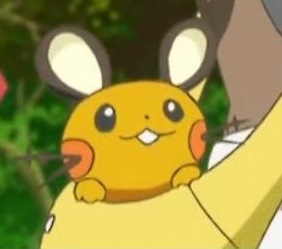 Dedenne ♂*
Episode appearances
Trivia
Unlike his counterpart, Mirror Clemont is incredibly fast and uses traditional methods to solve problems.
Ad blocker interference detected!
Wikia is a free-to-use site that makes money from advertising. We have a modified experience for viewers using ad blockers

Wikia is not accessible if you've made further modifications. Remove the custom ad blocker rule(s) and the page will load as expected.