Mirage Armaldo
ミラージュアーマルド Miraaju Aamarudo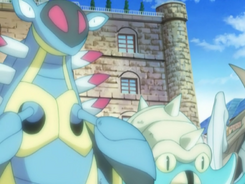 This Armaldo was a Mirage Pokémon created by Dr. Yung.
Biography
It was first seen when Yung brought them out of the Mirage System. It was then recalled and combined with Mirage Omastar and Mirage Kabutops into a Mirage Aggron. Mirage Master later called it to get rid of Ash, Misty, Brock, May and Max. It used Shadow Ball on Max, but was unable to follow them outside the gate. It was later destroyed with the Mirage System.
Known moves
Ad blocker interference detected!
Wikia is a free-to-use site that makes money from advertising. We have a modified experience for viewers using ad blockers

Wikia is not accessible if you've made further modifications. Remove the custom ad blocker rule(s) and the page will load as expected.