Ad blocker interference detected!
Wikia is a free-to-use site that makes money from advertising. We have a modified experience for viewers using ad blockers

Wikia is not accessible if you've made further modifications. Remove the custom ad blocker rule(s) and the page will load as expected.
Mikan Island is the location of first of the Orange Island gyms. Its leader, Cissy, is an expert on Water-types, and challenges opponents to shoot targets and run water races instead of battling. Her Pokémon are Seadra and Blastoise. When defeated, she gives a Coral-eye Badge to her worthy opponents.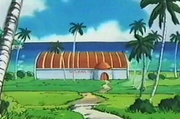 As one of the
Orange Islands
, this island is home to Cissy (sometimes spelled Sissy), the Mikan Island
Gym Leader
.
Gym
Main article: Mikan Gym
Mikan Gym Leader

Coral-Eye Badge
No MT

Cissy
Blastoise
Aquatic Race

Seadra
Shooting Competition