Limone is Clemont and Bonnie's father and one of the best engineers in Lumiose City. His secret identity is Blaziken Mask.
Biography
Season 17: XY Series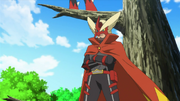 Limone used his Blaziken (in it's Mega Evolution form) to save Ash and his Pikachu from falling off from Prism Tower after Garchomp was freed from Team Rocket's device. When Clemont attempted to re-capture the Gym from his own robot, Limone met his friends.
Pokémon
On hand
Pokémon
Information
Limone's Ampharos has seldom been seen, often seen helping him in his electronics store or riding around on his moped with him. Its current battle strengths are unknown.
Ampharos
Trivia
He is the first character seen in the mainstream anime to use the Mega Evolution on his Pokémon.
Gallery