DescriptionsEdit
Pokétch No: 03
Basic Info: "The Memo Pad app can be used for jotting down quick notes."
Computer Info: The Memo Pad is used to jot down notes or doodle. There's an eraser as well.
Draw on the screen using the Pencil tool to write down notes or just doodle.
Use the Eraser tool to erase any mistakes.
If you change the Pokétch to the next app, the drawings will be gone.
If you exited the game or turn off the Nintendo DS, the drawings will be gone too.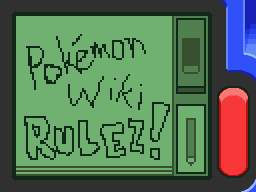 This page is under construction.
A not defined user is improving this page. Therefore please refrain from editing temporarily until the page is finished. Please excuse the informal page. We hope to have the page completed as soon as possible.
Remember to remove this template when the page is complete.