Melanie is a character appearing in Pokémon: Indigo League.
Biography
Edit
Season 1: Indigo League
Edit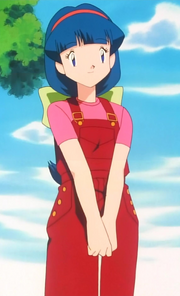 She is a girl who speaks softly and who takes care of Pokémon in a tiny cabin. She was one of Brock's many love interests, but she said it would be okay if they just stayed friends. She was voiced by Tara Jayne.
The Electric Tale of Pikachu
Edit
Main article: Melanie (ETP)
A girl based on Melanie will give the player a Bulbasaur if their Pikachu's happiness is high enough. However, she is located in Cerulean City.
Unofficial
Edit
Pokémon
Information

Bulbasaur was the defender of the village, which is why Melanie took care of it. When she saw Ash helping Bulbasaur, she advised him to take Bulbasaur on the journey, which Ash accepted.

Bulbasaur
Episode appearances
Edit