Melanie is a minor character who appeared in Pokémon: Indigo League.
Biography
Anime
Season 1: Indigo League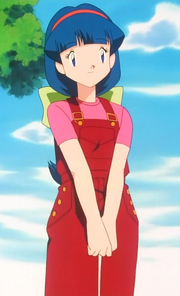 She is a girl who speaks softly and who takes care of Pokémon in a tiny cabin. She was one of Brock's many love interests, but she said it would be okay if they just stayed friends.

Manga
The Electric Tale of Pikachu
Main article: Melanie (ETP)
Games
Yellow
A girl based on Melanie will give the player a Bulbasaur if their Pikachu's happiness is high enough. However, she is located in Cerulean City.
Pokémon
Cares for
This article is missing an image.
Please help the Pokémon Wiki by adding one.
Released
Episode appearances
Ad blocker interference detected!
Wikia is a free-to-use site that makes money from advertising. We have a modified experience for viewers using ad blockers

Wikia is not accessible if you've made further modifications. Remove the custom ad blocker rule(s) and the page will load as expected.