Mars' Bronzor
Mars' Domira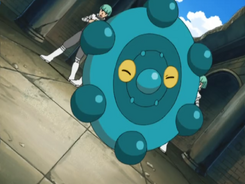 Mars' Bronzor is a steel/psychic-type Pokémon owned by Mars.
Biography
Edit
The episode that it was seen in was Double Team Turnover when it helped Mars to retrieve the Lustrous Orb from Team Rocket. But Bronzor was later knocked out by Ash's Staravia, Dawn's Piplup and Cynthia's Garchomp.
Known moves
Edit
Adventures
Edit
Diamond and Pearl Adventure!
Edit