Mandi's Golbat
Kōmu's Golbat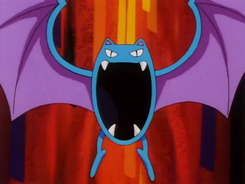 This Golbat is a poison/flying-type Pokémon owned by Mandi.
Biography
Kanto
Mandi used Golbat to defeat Ash's Kingler by using sky attacks and drain it of energy. However, he did not expect Golbat to be defeated by a Hyper Beam, thus lost.
Orange Islands
Like its trainer, Golbat appeared in the opening scene of Adventures on the Orange Islands.
Known moves
Gallery