This article or section requires a cleanup in order to meet
the Pokémon Wiki's quality standards.
Reason: Unknown
Please consider editing this page to improve it.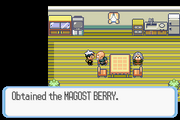 Magost Berries
are a kind of non-effective berry. These berries are fairly rare in
Hoenn
and
Sinnoh
. In Generation III, the Berry Master and Kira in
Sootopolis City
will sometimes give you this berry. It takes 24 hours to grow and will give 2-4 berries when fully grown. It will always make Brown PokéBlocks. In Generation IV, it still takes 24 to grow but gives 2-10 berries when fully grown. It will make a Bitter-Sweet Poffin if you cook alone.