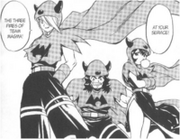 A Magma Admin is an administrator of Team Magma. In Ruby, there are two admins, Tabitha and Courtney. In Emerald, only Tabitha is present. They serve as the commanders of Maxie. They use Fire-type and Dark-type Pokémon. In Ruby, Tabitha has 2 Numel (1 evolves into Camerupt for the second battle) and Poochyena (which evolves into Mightyena for the second battle). In Emerald, his team is the same, but now he added Zubat (which evolves into Golbat for the double battle with Maxie).
Trainer Sprites
Pokémon
Ruby
Tabitha
Courtney
Emerald
Tabitha
See also
Ad blocker interference detected!
Wikia is a free-to-use site that makes money from advertising. We have a modified experience for viewers using ad blockers

Wikia is not accessible if you've made further modifications. Remove the custom ad blocker rule(s) and the page will load as expected.