Mach Punch (マッハパンチ Mach Punch) is a Fighting-type move introduced in Generation II. It was the signature move of Hitmonchan before Generation III.
In BattleEdit
The user throws a punch at speed. It is certain to strike first. It has 30 PP and the max amount of PP is 40.
The next appeal can be made earlier next turn.
Super ContestsEdit
Enables the user to perform first in the next turn.
By Leveling UpEdit
By Leveling Up
Pokémon
type
Level
Hitmonchan
Fighting
32
* Bold indicates a Pokémon which receives STAB from this move
By BreedingEdit
By Breeding
Pokémon
type
Father
Tyrogue
Fighting
Hitmonchan
* Bold indicates a Pokémon which receives STAB from this move
* indicates a Pokémon that can only learn the move through chain breeding
By Leveling UpEdit
By BreedingEdit
By Breeding
Pokémon
type
Father
Tyrogue
Fighting
Hitmonchan
* Bold indicates a Pokémon which receives STAB from this move
* indicates a Pokémon that can only learn the move through chain breeding
By Leveling UpEdit
By BreedingEdit
By Leveling UpEdit
By BreedingEdit
Mach Punch depicted in the games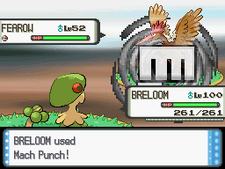 Breloom using Mach Punch
Mach Punch depicted in the anime

Kiyo's Hitmonchan using Mach Punch

Kyle's Hitmonchan using Mach Punch

Ash's Infernape using Mach Punch

Breloom using Mach Punch