MS019: Pokémon The Movie - Volcanion and the Mechanical Marvel
Talk

0
Share
Ad blocker interference detected!
Wikia is a free-to-use site that makes money from advertising. We have a modified experience for viewers using ad blockers

Wikia is not accessible if you've made further modifications. Remove the custom ad blocker rule(s) and the page will load as expected.
MS019: Pokémon The Movie - Volcanion and the Mechanical Marvel
ボルケニオンと機巧のマギアナ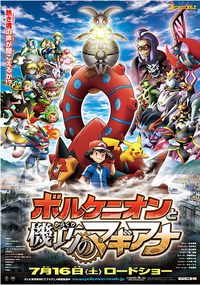 Japanese teaser poster
Movie Information
Directed by
Kunihiko Yuyama
Produced by
Takemoto Mori
Choji Yoshikawa
Yukio Kawasaki
Junya Okamoto
Koichi Kawase
Written by
Atsuhiro Tomioka
Season
Pokémon Movie
Studio
OLM, Inc.

Distributed by

Toho Company Ltd.

Licensed by

Viz Media
The Pokémon Company International
Running time
73 minutes
Budget
TBA
Premiere
Japan
July 16, 2016
United States

December 5, 2016

Home video
Japan
TBA
United States
TBA
Ratings
Japan
TBA

UK

TBA
United States
TBA
Volcanion and the Mechanical Marvel (ボルケニオンと機巧のマギアナ Volcanion and the Ingenuous Magearna) is the third XY series movie. It features Volcanion and Magearna.
Blurb
A Pokémon came falling from the sky!
As Ash continues his journey aiming to become a Pokémon Master, a lump covered in white smoke suddenly dropped out of the sky and landed in front of him and his friends. As white smoke spread around as far as the eye could see, a shape appeared from within it; The mythical Pokémon Volcanion.
Ignoring the worried Ash and his friends, Volcanion immediately tries to leave the place.  However, the impact of the fall caused Ash and Volcanion to be linked with a strange device and unable to separate...!
Volcanion runs off and Ash gets dragged along by it, eventually reaching the Azoth Kingdom, a city of super-machinery where gigantic cogwheels are all over the place and rotating. Why did Volcanion fall from the sky? And why did it head to the Azoth Kingdom!? With the mechanical kingdom of machinery as its setting, the hottest legend in Pokémon history begins!
Characters
Human
Pokémon
Gallery
Videos
Mistakes
Squishy was able to transform into his 100% form without Z-2. This is in fact impossible unless Z-2 was nearby, which he wasn't due to being captured by Team Flare.