MS017: Pokémon The Movie - Diancie and the Cocoon of Destruction
Talk

0
MS017: Pokémon The Movie - Diancie and the Cocoon of Destruction
破壊の繭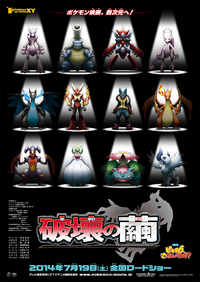 Teaser poster
Movie Information
Directed by
Kunihiko Yuyama
Produced by
Takemoto Mori
Choji Yoshikawa
Yukio Kawasaki
Junya Okamoto
Koichi Kawase
Written by
Hideki Sonoda
Season
Pokémon Movie
Studio
{{{studio}}}

Distributed by

{{{distributor}}}

Licensed by

{{{licensor}}}
Running time
TBA
Budget
TBA
Premiere
Japan
July 19, 2014
United States
TBA
Home video
Japan
TBA
United States
TBA
Ratings
Japan
TBA

UK

Unknown
United States
Unknown
The Cocoon of Destruction (Japanese: 破壊の繭, Hakai no Mayu) is the first Pokémon X and Y series and seventeenth Pokémon movie. It will be released in Japanese theaters on July 19, 2014.
Plot
It involves a Great Destruction that once wreaked havoc in the Kalos region, making life become extinction, a baron wasteland. The Destruction Pokémon, Yveltal is said to have been the cause of this horrific event. Once Yveltal destroyed all life in the region, it turned into a Cocoon of Destruction, in which he still lies in a dormant sleep. Opposing Yveltal was Xerneas, the Life Pokémon. Only to had the power needed to restore balance against Yveltal's destructive nature and restored life to both humans and Pokémon of Kalos.
Posters and logos
Videos
Trivia
It was revealed by CoroCoro that Diancie is set to appear in the film and is named, Cocoon of Destruction & Diancie.