MS016: Pokémon The Movie - Genesect and the Legend Awakened
神速のゲノセクト ミュウツー覚醒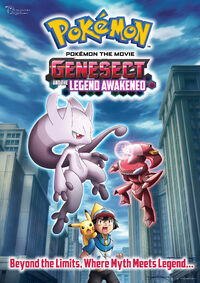 English poster cover
Movie Information
Directed by
Kunihiko Yuyama
Satoshi Tajiri
Produced by
Takemoto Mori
Choji Yoshikawa
Yukio Kawasaki
Junya Okamoto
Koichi Kawase
Written by
Hideki Sonoda
Satoshi Tajiri
Season
Pokémon Movie
Studio
OLM, inc.
Distributed by
Toho Company Ltd.
Licensed by
Viz Media
The Pokémon Company International
Running time
95 minutes
Budget
$30,270,596
Première
Japan
July 13, 2013
United States
October 19, 2013
Home video
Japan
December 18, 2013
United States
December 3, 2013
Ratings
Japan
TBA
UK
TBA
United States
TBA
Genesect and the Legend Awakened (Japanese: 神速のゲノセクト ミュウツー覚醒 Shinsoku no Genosekuto: Myuutsū Kakusei, literally meaning; Genesect of Godspeed: Mewtwo's Awakening) is the sixteenth Pokémon movie. It was released alongside the short Eevee & Friends on July 13th, 2013 in Japan. The Movie was debuted on October 19, 2013 on Cartoon Network and CITV in United States and the UK.
What is this red Genesect, a Pokémon from 300 million years ago, who boasts special speed and power doing in the middle of a large modern city.
This article or section is completely BLANK!
Please help the Pokémon Wiki by expanding it.
CharactersEdit
In all previous aplications of Mewtwo's voice, Mewtwo is heard as masculine and is male, but in this movie, Mewtwo is heard as feminine and female instead of male.
This is the first Pokémon movie to air a prequel episode before the movie's airdate in Japan.
This is the first Pokémon movie to have a Mega Evolution, Mega Mewtwo Y.