MS015: Pokémon The Movie - Kyurem vs. the Sword of Justice
Talk

10
MS015: Pokémon The Movie - Kyurem vs. the Sword of Justice
{{{japanese title}}}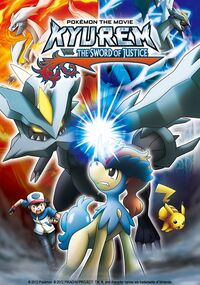 English Poster of MS015
Movie Information
Directed by
{{{directed by}}}
Produced by
{{{produced by}}}
Written by
{{{written by}}}
Season
Pokémon Movie
Studio
{{{studio}}}

Distributed by

{{{distributor}}}

Licensed by

{{{licensor}}}
Running time
{{{running time}}}
Budget
{{{budget}}}
Premiere
Japan
{{{japan}}}
United States
{{{united states}}}
Home video
Japan
{{{home video japan}}}
United States
{{{home video united states}}}
Ratings
Japan
{{{rating japan}}}

UK

{{{rating united kingdom}}}
United States
{{{rating united states}}}
Pokemon the Movie Kyurem VS the Sword of Justice
(Japanese:
キュレムVS聖剣士 ケルディオ
) is an upcoming Pokémon movie; set to be released in Japan, in July 2012 and America December 8,2012.
Kyurem
and
the
Musketeer
trio
are starring in this movie. More information was revealed on December 17th on the official site. It's going to be another movie taking place in the Unova region and should feature Kyurem's Reshiram and Zekrom forms.
Featured Pokémon
Kyurem
Cobalion
Terrakion
Virizion
Keldeo
Debuts
Cobalion
Terrakion
Virizion
Keldeo
Characters
Humans
Pokémon
Vanillite (Malin's)
Cobalion
Terrakion
Virizion
Cryogonal (multiple)
Events
On release in Japan, Japanese players of Pokémon Black and White, and Black and White Versions 2 can download the special Pokémon Keldeo.
Gallery
External links
thumb|300px|left|Extended Trailer