MS015: Pokémon The Movie - Kyurem vs. the Sword of Justice
Talk

10
MS015: Pokémon The Movie - Kyurem vs. the Sword of Justice
{{{japanese title}}}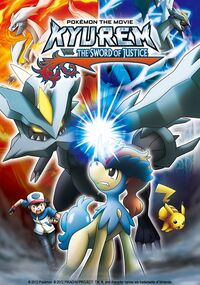 English Poster of MS015
Movie Information
Directed by
{{{directed by}}}
Produced by
{{{produced by}}}
Written by
{{{written by}}}
Season
Pokémon Movie
Studio
{{{studio}}}

Distributed by

{{{distributor}}}

Licensed by

{{{licensor}}}
Running time
{{{running time}}}
Budget
{{{budget}}}
Premiere
Japan
{{{japan}}}
United States
{{{united states}}}
Home video
Japan
{{{home video japan}}}
United States
{{{home video united states}}}
Ratings
Japan
{{{rating japan}}}

UK

{{{rating united kingdom}}}
United States
{{{rating united states}}}
Pokémon the Movie: Kyurem VS. The Sword of Justice
(Japanese:
キュレムVS聖剣士ケルディオ
Kyurem VS the Sacred Swordsman: Keldeo
) is the second
Template:Series
movie and the fifteenth
Pokémon movie
overall. It premiered in Japanese theaters on July 14, 2012. It will also premiere in the US on Cartoon Network on December 8, 2012 and in the UK on citvon December 12, 2012.
Featured Pokémon
Kyurem
Cobalion
Terrakion
Virizion
Keldeo
Debuts
Cobalion
Terrakion
Virizion
Keldeo
Characters
Humans
Malin
Elder (flashback)
Mother and daughter
Kanata
Misaki
Station attendant
Pokémon
Vanillite (Malin's)
Cobalion
Terrakion
Virizion
Cryogonal (multiple)
Liepard (Misaki's)
Herdier (Kanata's)
Cubchoo
Beartic
Patrat
Watchog
Sewaddle
Swadloon
Leavanny
Blitzle
Zebstrika
Minccino
Cinccino
Seismitoad
Purrloin
Garbodor
Whirlipede
Scolipede
Deerling
Sawsbuck
Heatmor
Drilbur
Excadrill
Lillipup
Stoutland
Maractus
Petilil
Lilligant
Druddigon
Events
On release in Japan, Japanese players of Pokémon Black and White, and Black and White Versions 2 can download the special Pokémon Keldeo.
Gallery
External links
thumb|300px|left|Extended Trailer