Lyra
is the playable female protagonist in
Pokémon HeartGold and SoulSilver Versions
. If the player's gender is a female, then Lyra is the playable character.
Appearance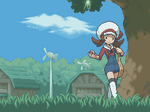 Lyra's attire consists of a white hat with a red ribbon on it, a pair of blue overalls, with a red long-sleeved shirt underneath with a white collar and red shoes with white stockings. She has brown eyes, brown hair and light skin.

In the anime
Main article: Lyra (anime)
Sprites
Trivia
In the Pokémon HeartGold & SoulSilver Special Celebi Event, Lyra accompanies Ethan (if the player's gender is male) during the storyline.
In Pokémon Ranger, there is an area named "Lyra" Forest.
Lyra is 4`11 (1.52 m ) and also weighs 90.4 lbs (41 kg)
Lyra's age is said to be 12.
Lyra replaces the female playable character of Pokémon Crystal, Kris.