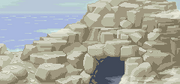 Lost Cave is a dark cave on Five Island of the Sevii Islands. According to the Town Map in Pokémon FireRed and LeafGreen, it was said that many thrill seekers have entered the cave, never to come back out.
Items
Pokémon
Ad blocker interference detected!
Wikia is a free-to-use site that makes money from advertising. We have a modified experience for viewers using ad blockers

Wikia is not accessible if you've made further modifications. Remove the custom ad blocker rule(s) and the page will load as expected.