Lorelei
Talk

0
8,772pages on
this wiki
"Welcome to Pokémon League! I am Lorelei of the Elite Four! No one can best me when it comes to icy Pokémon! Freezing moves are powerful! Your Pokémon will be at my mercy when they are frozen solid! Hahaha! Are you ready?"
Lorelei (originally LORELAI in Red, Blue, and Yellow) is the 1st Elite Four member in the Kanto region. She specializes in using Ice-type Pokémon. Her strongest Pokémon is her Lapras. She lives on Four Island, and is known to have a large assortment of dolls.
Appearance
She wears a pair of glasses, a black shirt, a purple skirt, black high heels, and has red hair. In the anime, she wears a blue jacket, a red shirt, and a black skirt.
Personality
Biography
Main Games
Red, Green & Blue
Yellow
FireRed & LeafGreen
Manga
Adventures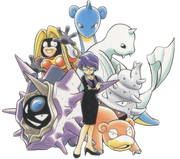 She is a villain who helps Lance and the rest of the Elite Four members in their plans.
Anime
Main Series
Lorelei appeared in the anime under the name of Prima. Like her game counterpart, she specialized in Ice and Water-type Pokémon. She lives on the Southern Mandarin Island, where she trains during the off season. She is a member of the Elite Four and Misty saw her as her personal hero. Ash learned many things from Prima and from the battle he lost to her, including that battles aren't just about winning. She used a Slowbro, a Dewgong, a Cloyster and a Jynx to battle.
Sprites
| | | | | | |
| --- | --- | --- | --- | --- | --- |
| RB Battle Sprite | | Y Battle Sprite | | FRLG Battle Sprite | |
| | | | | | |
Pokémon
Main Games
R/G/B

Dewgong
   

Cloyster
   

Slowbro
   

Jynx
   

Lapras
   
[[File:{{{P6}}}_BW.gif|link={{{P6}}}]]
[[]]
  
Lv. 54
-
Lv. 53
-
Lv. 54
-
Lv. 56

♀

Lv. 56
-
Lv. ?
-
Ability: Unknown
Ability: Unknown
Ability: Unknown
Ability: Unknown
Ability: Unknown
Ability: Unknown
Item: ?
Item: ?
Item: ?
Item: ?
Item: ?
Item: ?
Growl
Supersonic
Water Gun
DoubleSlap
Body Slam
-
Aurora Beam
Clamp
Growl
Ice Punch
Confuse Ray
-
Rest
Aurora Beam
Withdraw
Body Slam
Hydro Pump
-
Take Down
Spike Cannon
Amnesia
Thrash
Blizzard
-
Y

Dewgong
   

Cloyster
   

Slowbro
   

Jynx
   

Lapras
   
[[File:{{{P6}}}_BW.gif|link={{{P6}}}]]
[[]]
  
Lv. 54
-
Lv. 53
-
Lv. 54
-
Lv. 56

♀

Lv. 56
-
Lv. ?
-
Ability: Unknown
Ability: Unknown
Ability: Unknown
Ability: Unknown
Ability: Unknown
Ability: Unknown
Item: ?
Item: ?
Item: ?
Item: ?
Item: ?
Item: ?
BubbleBeam
Supersonic
Surf
DoubleSlap
Body Slam
-
Aurora Beam
Clamp
Psychic
Ice Punch
Confuse Ray
-
Rest
Ice Beam
Withdraw
Lovely Kiss
Hydro Pump
-
Take Down
Spike Cannon
Amnesia
Thrash
Blizzard
-
FR/LG

Dewgong
   

Cloyster
   

Slowbro
   

Jynx
   

Lapras
   
[[File:{{{P6}}}_BW.gif|link={{{P6}}}]]
[[]]
  
Lv. 52

♀

Lv. 51

♀

Lv. 52

♀

Lv. 54

♀

Lv. 54

♀

Lv. ?
-
Ability: Thick Fat
Ability: Shell Armor
Ability: Oblivious
Ability: Oblivious
Ability: Water Absorb
Ability: Unknown
Item: None
Item: None
Item: None
Item: None
Item: Sitrus Berry
Item: ?
Surf
Spikes
Amnesia
DoubleSlap
Body Slam
-
Ice Beam
Dive
Yawn
Ice Punch
Surf
-
Hail
Hail
Ice Beam
Lovely Kiss
Ice Beam
-
Safeguard
Protect
Surf
Attract
Confuse Ray
-

Dewgong
   

Cloyster
   

Piloswine
   

Jynx
   

Lapras
   
[[File:{{{P6}}}_BW.gif|link={{{P6}}}]]
[[]]
  
Lv. 64

♂

Lv. 63

♂

Lv. 63

♂

Lv. 66

♀

Lv. 66

♂

Lv. ?
-
Ability: Thick Fat
Ability: Shell Armor
Ability: Oblivious
Ability: Oblivious
Ability: Water Absorb
Ability: Unknown
Item: None
Item: None
Item: None
Item: None
Item: Cheri Berry
Item: ?
Surf
Rain Dance
Earthquake
Psychic
Thunder
-
Ice Beam
Surf
Blizzard
Ice Beam
Surf
-
Signal Beam
Ice Beam
Double-Edge
Lovely Kiss
Ice Beam
-
Double Team
Supersonic
Rock Slide
Attract
Psychic
-
Side Games
Stadium

Dewgong
   

Cloyster
   

Slowbro
   

Jynx
   

Lapras
   

Articuno
   
Lv. 50
-
Lv. 50
-
Lv. 50
-
Lv. 50

♀

Lv. 50
-
Lv. 50
-
Ability: Unknown
Ability: Unknown
Ability: Unknown
Ability: Unknown
Ability: Unknown
Ability: Pressure
Item: ?
Item: ?
Item: ?
Item: ?
Item: ?
Item: ?
Surf
Supersonic
Thunder Wave
Reflect
Body Slam
Toxic
Aurora Beam
Clamp
Surf
Ice Punch
Hydro Pump
Ice Beam
Rest
Spike Cannon
Psychic
Lovely Kiss
Ice Beam
Sky Attack
Take Down
Explosion
Tri Attack
Thrash
Confuse Ray
Double-Edge
Manga
Anime
Main Series
On Hand
Pokémon
Information

Jynx was seen battling Team Rocket. It froze them with an Ice Punch and sent them flying with a blizzard.

Jynx

♀
Pokémon
Information

Dewgong was only seen in Lorelei's lecture fighting a trainer's Marowak. Its only known move is Ice Beam.

Dewgong
Pokémon
Information

Cloyster is the Pokémon Lorelei used against Ash's Pikachu. Cloyster was extremely powerful and won quickly.

Cloyster
Pokémon
Information

Slowbro was seen calming down Charizard with a disable and in her lecture battling against a Machamp with a Mega Punch.

Slowbro
Origins
On Hand
Pokémon
Information

Dewgong was only seen in Lorelei's battle against Red. Its only known move is Aurora Beam.

Dewgong
Voice Actresses
Maria Kawamura (Japanese)