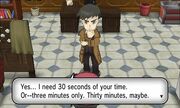 The Looker Bureau is located across from the Sushi High Roller restaurant in Rouge Plaza. This is where Looker has his first rendezvous with the player character after player character defeats the Elite Four and the Champion. When the two meet, it marks the beginning of the post-game quest.
Ad blocker interference detected!
Wikia is a free-to-use site that makes money from advertising. We have a modified experience for viewers using ad blockers

Wikia is not accessible if you've made further modifications. Remove the custom ad blocker rule(s) and the page will load as expected.