Link Searcher
Talk

0
9,141pages on
this wiki
Descriptions
Pokétch No: 14
Basic Info: "The Linking Searcher app determines the availability of wireless hot spots."
Computer Info: "The Link Searcher searches for players on wireless communications. Touch the screen to get a list of people using wireless communications."
Obtained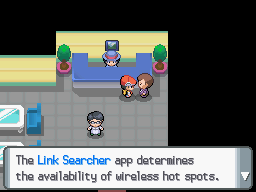 Uses
Tap on the screen to search for wireless communications.
The list shows the number of communications in a particular hot spots.
Tap again to turn off the wireless communications.

This page is under construction.
A not defined user is improving this page. Therefore please refrain from editing temporarily until the page is finished. Please excuse the informal page. We hope to have the page completed as soon as possible.
Remember to

remove

this template when the page is complete.