Lavaridge Town
フエンタウン
Fuen Town
"

An excellent place for relaxing!

"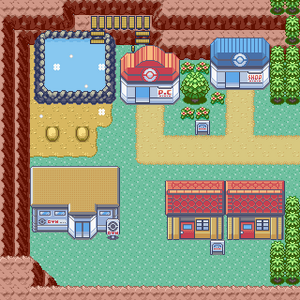 Lavaridge Town (Japanese: フエンタウン Fuen Town) is located at the Foothills of Mt. Chimney. The Lavaridge Pokémon Center is connected to a hot spring, which is what Lavaridge Town is famous for all over the Hoenn region. An old lady in front of the hot springs gives the player a Pokémon egg, which hatches into Wynaut. The Gym Leader of Lavaridge is Flannery, who uses Fire-types.
Located north of the town is Mt. Chimney. Team Aqua (in Pokémon Sapphire) or Team Magma (in Ruby, Emerald) steals a meteorite in an attempt to control the volcano; Team Magma wants to expand the land (by making it erupt), while Team Aqua wishes to cool it down so it fills up with water. In either case, once the player defeats the team leader, they make the respective team leave the location.