Kiawe's Charizard
'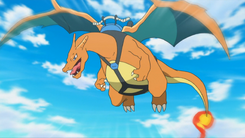 This Charizard is a Fire/Flying-type Pokémon owned by Kiawe.
Biography
Charizard first appeared when Ash saw it and Kiawe as flying over them to Pokémon School. Once they arrived, Kiawe was confronted by Team Skull grunts, who were annoyed at them. They proposed a battle, with Kiawe's Charizard being betted. However, Ash helped Kiawe defeat the Team Skull grunts.[1]
Kiawe and Charizard went to the Pokémon Center. From the building, Ash, Rotom and Pikachu chased Litten away, which made Kiawe wonder if that was a way Ash wanted to get revenge on Litten.[2]
Charizard, along with its trainer, was at the party to celebrate Ash and his Pokémon's Grand Trial of Melemele Island victory.[3]
Known moves
None of Charizard's moves are known.
References
Ad blocker interference detected!
Wikia is a free-to-use site that makes money from advertising. We have a modified experience for viewers using ad blockers

Wikia is not accessible if you've made further modifications. Remove the custom ad blocker rule(s) and the page will load as expected.