Kenny's Empoleon
Kengo's Emperte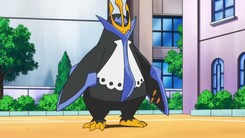 General
Trainer:
Kenny
Gender:
Unknown
Ability:
Torrent (Not yet activated)
Debut:
Getting the Pre-Contest Titters!
Episode captured:
Prior to Getting the Pre-Contest Titters!
Caught where:
Sinnoh
Current location:
With Kenny
Details
Evolved:
??? episodes as a Piplup

At least 97 episodes as a Prinplup.

Evolves In:
Prior to Arrival of a Rival!

Prior to Last Call, First Round!

Original trainer:
Kenny
Kenny's Empoleon
is one of Kenny's Pokémon and is his main Pokémon in Contests. It first appeared as a Prinplup in
Getting the Pre-Contest Titters!
, during its time as a Prinplup, it helped him win his 2nd and 3rd ribbon. It also has a fierce rivalry with
Dawn's Piplup
. Prior to
Last Call, First Round!
it evolved into an Empoloen. While in
Sunyshore City
, Kenny and Empoleon trained with the Olivine Gym Leader
Jasmine
and defeated
Ash
in a
Pokemon Battle. Empoleon is currently with Kenny.
Known Moves
Gallery