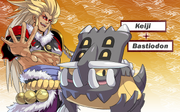 Keiji is a wanderer in Pokémon Conquest. Stylish, with a love of interesting and unusual things, he has a tendency to drift from kingdom to kingdom. His talent as a Warrior, however, is not to be underestimated.
This section is completely EMPTY!
Please help the Pokémon Wiki by expanding it.
Special Story (The Free Spirit's Path)Edit
Keiji becomes a temporary Warlord of the Yaksha in Kotarō's place.
Rank 1: Mighty Blow. Significantly raises Attack.
Rank 2: Carefree. Raises Attack and makes enemies flinch (for 4 turns).