General Information
Hit Points
80
Height
{{{height}}}
Weight
22.0 lbs. (10.0 kg)
Other Information
Illustration
Kagemaru Himeno

Expansion

Tidal Storm

Expansion

Primal Clash
Card Number

2/160

Rarity
Uncommon
| | | |
| --- | --- | --- |
| | Weedle is the pre-evolution of Kakuna. This is the second stage. | |
Kakuna (コクーン Cocoon) is a Grass-Pokémon and also the second out of 160 cards that is part of the Primal Clash.It is the evolution of Weedle and considered as a second stage pokémon. The card image has been illustrated by Kagemaru Himeno.
Gallery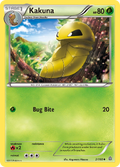 Primal Clash print
Tidal Storm print
Attack
Pokédex Entree
Pokédex
English
While awaiting evolution, it hides from predators under leaves and in nooks of branches.
Japanese

天敵に 見つからないように 葉っぱの 裏や 枝の すきまに 隠れて 進化の ときを 待つ。

Translation

It hides hidden in the gap of the branches of leaves to wait for the time of evolution so that it is not found by enemies.
Trivia
Its Pokédex Entry came from Pokémon Diamond, Platinum, Pearl, Black and White, Black and White 2, and Y.
Kakuna (from the main games) can learn Bug Bite through Move Tutoring.
Ad blocker interference detected!
Wikia is a free-to-use site that makes money from advertising. We have a modified experience for viewers using ad blockers

Wikia is not accessible if you've made further modifications. Remove the custom ad blocker rule(s) and the page will load as expected.