Ad blocker interference detected!
Wikia is a free-to-use site that makes money from advertising. We have a modified experience for viewers using ad blockers

Wikia is not accessible if you've made further modifications. Remove the custom ad blocker rule(s) and the page will load as expected.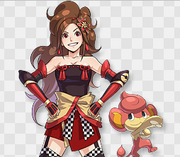 '
Kai'
or Kaihime is a Warrior from
Cragspur
who serves as
Ujiyasu
's right hand woman. A strong-willed girl who hates losing, she is in fact good-hearted and caring toward others. Occasionally prone to fretting about her appearance.
Appearance
Kai has red eyes and wild brown hair with a red flower accessory. She wears a brown tube top with red laces, red and brown armored gloves a rd skirt with a checkered ribbon tied on it, and a tan and red coat around her waist, and black and checkered stockings with black garterbelts (her footwear is not visible).
At Rank II, her appearance is altered drastically. Now her hair is black and bunched up, with flame-styled accessories in it. Her outfit now consists of a flame-designed red and black bikini, red, black, and yellow sleeves, a red cape, and a different red and black skirt.
Plot
This section is completely EMPTY!
Please help the Pokémon Wiki by expanding it.
Special Story (Simply the Best)
This section is completely EMPTY!
Please help the Pokémon Wiki by expanding it.
"Ransei's Greatest Beauty... Now that's just gotta be me, hasn't it?!" Confident as ever, Kai steps boldly forth into a showdown between the greatest women Warriors of Ransei.
Status
Skills
Rank 1: Quick Strike. Increases Range and makes enemies flinch.
Rank 2: Improves Speed and makes enemies flinch.