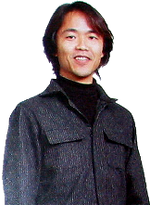 Junichi Masuda (増田順一 Masuda Jun'ichi) is notably known for being the Director of the Board at Gamefreak, the company which produces each Pokémon game. He is also credited with composing many of the soundtracks featured in each Pokémon version.
Pokémon Soundtracks
Masuda has an extensive history working with Pokémon soundtracks and location songs, and the notable soundtracks he has affiliated himself with are listed below.
Ad blocker interference detected!
Wikia is a free-to-use site that makes money from advertising. We have a modified experience for viewers using ad blockers

Wikia is not accessible if you've made further modifications. Remove the custom ad blocker rule(s) and the page will load as expected.