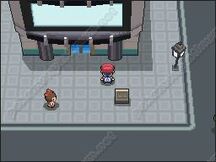 Jubilife TV is the main attraction in Jubilife City. When you first enter the city, a clown is blocking the entrance to Jubilife TV. On the first floor, you'll find the Pokémon Lottery Corner, where you can draw and earn prizes such as a Master Ball and an Exp. Share. A Trainer that will gladly battle you can also be found on the first floor. On floor two, you'll find the Pokémon Dress-Up. On the third floor, you'll find the Group Ranking Room and the Global Group Ranking Room.
Ad blocker interference detected!
Wikia is a free-to-use site that makes money from advertising. We have a modified experience for viewers using ad blockers

Wikia is not accessible if you've made further modifications. Remove the custom ad blocker rule(s) and the page will load as expected.