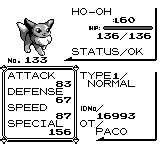 This article is missing an image.
Please help the Pokémon Wiki by adding one.
The Johto Guard Glitch is a glitch that gives the player a glitched Pokémon. To activate this glitch, the player needs a ????? (index number 255) Pokémon at the top of your party, which one can get one by using the Celebi Egg Glitch. Go to the Time Capsule and trade a Johto Pokémon. The Pokémon traded back in the games Pokémon Red, Blue, Green, or Yellow will be a glitched Pokémon. An example would be trading a Meganium in Red and Blue, which would get the player the glitched Pokémon ゥ. In Yellow, however, the player would get a ♀.
Video Tutorial