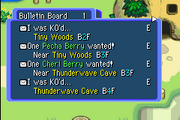 The Job Bulletin Board is a notice board exclusive to Pokémon Mystery Dungeon. It consists of job applications sent by different Pokémon. The player may take multiple applications at time.
Applications
There are application of different subjects. Main target is to rescue or escort Pokémon. They may be of different levels. Like Level S, A, B, C, D and so on. The reward depends upon the difficulty of level.
Location
In all Mystery Dungeon games, the Bulletin Board is present in the residential town.